Folks we are starting to make plans for the 139th NGAUS Conference which is being hosted by the Kentucky National Guard in Louisville, Kentucky. The 139th General Conference & Exhibition will take place September 7-11, 2017 which includes travel days on 7 and 11 September.
At conference, you will learn the way ahead from senior leaders. Discover the latest military and emergency response products, vote on the top legislative priorities for NGAUS, share information and celebrate the camaraderie of being National Guard, NGAGA, and NGAUS members! We will be networking with more than 4,000 fellow National Guard men and women from all 50 States, Guam, Puerto Rico, the U.S. Virgin Islands and the District of Columbia.
Hosted by the Kentucky National Guard.
Louisville is Kentucky's largest city situated on the Ohio River along the Indiana border. Every May, its race course Churchill Downs hosts the Kentucky Derby, a renowned horse race whose long history is explored at the Kentucky Derby Museum. Baseball is celebrated at the Louisville Slugger Museum and Factory, where Major League bats are produced and a giant baseball "slugger" marks the entrance. Here is a list of some things to do while in Louisville!
Churchill Downs · Louisville Slugger Museum · Kentucky Derby Museum · Belle of Louisville Riverboat · Louisville Zoo · Urban Bourbon Trail · Waverly Hills Sanatorium · Louisville Mega Cavern · Thomas Edison House · Kentucky Kingdom Amusment Park · Muhammad Ali Center · Cave Hill Cemetery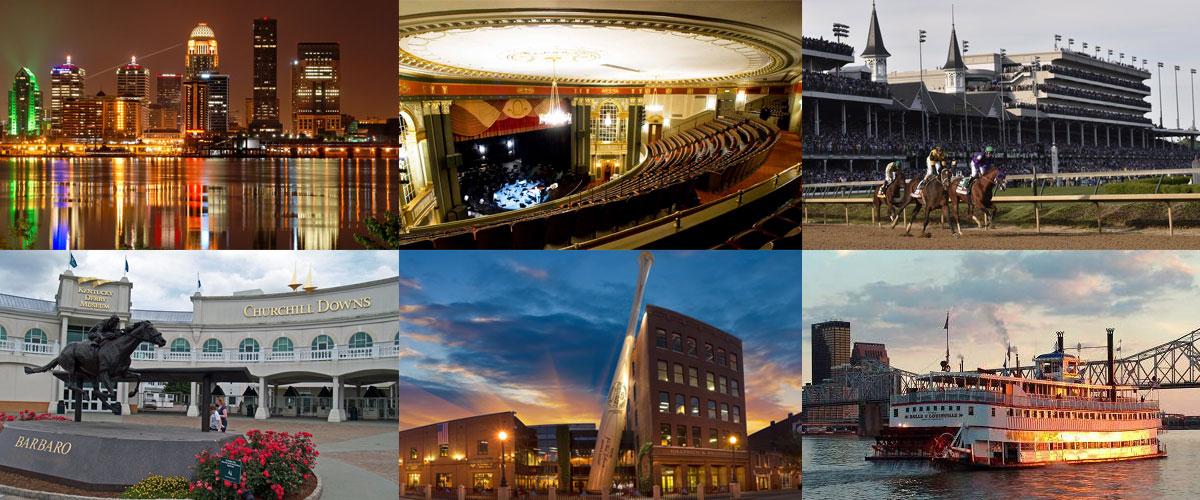 WHO: National Guard Association of United States
WHAT: 139th General Conference and Exhibits
WHERE: Louisville, KY
WHEN: 7-11 September 2017. 7 and 11 September are scheduled travel days.
HOTEL: We will be staying at the Galt House Hotel, 140 North Fourth Street, Louisville, KY 40202 Phone: 1- 855-516-1090. Room rates are $131 (plus taxes) per night run of the house. Deposit of $100 will hold your room and will be credited to your account when you check out.
REGISTRATION: Conference registration fee will be $200 for the general conference and will include all events except for the following: Golf on Thursday, 7 Sep will be $125 per person; Fun Run on Friday, 8 Sep will be $20; Retiree Luncheon on Saturday, 9 Sep and is $5 per person (members) and $25 for non-members.
TRANSPORTATION: Go ahead and make your airline reservations now to get the best prices but I feel sure this destination will be close enough for most of us to drive. Get a group together and share expenses!
NGAUS WEBSITE: The NGAUS website www.ngaus.org has a lot of good information about the conference just click on the 139th General Conference & Exhibition link. It will provide general information about the conference, what is going on in the city during the conference, site maps etc.
NGAGA POC: Marshall Kennemer, Executive Director, NGAGA, 912-369-6138, This email address is being protected from spambots. You need JavaScript enabled to view it.
139th NGAUS General Conference
The 139th Annual NGAUS National Conference, held in Louisville, KY at the Kentucky Expo Center from 7 Sept 2017 through 11 Sept 2017.
NOTE: To register as a couple, please select the Register (Group) option.
Event Properties
| | |
| --- | --- |
| Event Date | 09-07-2017 5:00 pm |
| Event End Date | 09-11-2017 12:00 pm |
| Registration Start Date | 05-30-2017 |
| Cut off date | 09-07-2017 5:00 pm |
| Individual Price | $200.00 |
| Location | Kentucky Expo Center |
The following schedule features a top-level list of events. For additional meetings, rehearsals, luncheons, exhibitor move-in/move-out dates, bus schedules, room locations, and more, view events on the NGAUS site.

Subject to change
Wednesday, September 6
8 a.m. - 5 p.m. Registration
8 a.m. - 2 p.m. Sponsors' Golf Tournament ( Persimmon Ridge)
4 - 6 p.m. Exhibitor Reception NGAUS Host
Thursday, September 7
7 a.m. - 5 p.m. Registration
8 a.m. - 3 p.m. NGAUS Golf Tournament (Persimmon Ridge)
7 - 11 p.m. Company Grade/Warrant Officer Mixer (4th Street Tavern/The Sports and Social Club )
7:30 - 11:30 p.m. Kentucky TAG/Sponsors Reception (Invitation Only) (Frazier Museum)
Friday, September 8
5:30 - 7 a.m. 5K Run (Water Front Park)
7 a.m. - 5 p.m. Registration
10:30 - 10:50 a.m. Ribbon Cutting
10:50 a.m. - 5 p.m. Exhibit Hall Open
Noon - 5 p.m. First Business Session
6:30 - 10 p.m. Governor's Reception (Churchill Downs )
Saturday, September 9
7 a.m. - 5 p.m. Registration
8 a.m. - noon Second Business Session
8 a.m. - 5 p.m. Exhibit Hall Open
11 a.m. - 1 p.m. Spouse Luncheon (Galt House)